This morning my cohort met at 8:30 and went to au bon pain for breakfast. We were finished by ten and then visited the Smithsonian Museum of American History for nearly an hour. We had to leave so quickly because we had to go to our tour of Georgetown University, which was scheduled for 12:30.
Georgetown University
There, we learned that Georgetown is a liberal arts college that has about 13,000 students, both graduate and undergraduate. There are four undergraduate colleges, but the largest by far is Georgetown college, which takes more than half of the incoming freshman class--more than 800 out of just under 1600. Georgetown college also emphasizes the growth of body, mind, and spirit, encouraging all religious faiths. In fact, Georgetown was started because John Carroll was denied entrance into all other American colleges due to the fact that he was Catholic. He believed that people of all religions should have access to a college education, so after completing his education in Europe he founded Georgetown University. Georgetown is an international university. The student body includes students from over 130 different countries, and more than 60% of all Georgetown students study abroad at some point.
Trees in front of a building on the beautiful Georgetown University campus.
Our tour guide was named Taemin, and he is a rising sophomore at Georgetown. He told us that the student to staff ratio at Georgetown is 10 to 1. We visited the Healy building, which according to Taemin is widely considered the most beautiful building on campus. I also noticed that nearly all of the buildings were built of brick--not just at Georgetown, but everywhere in DC. This stood out to me because I know that if buildings in California were made of brick, they would collapse in the first tremor of an earthquake, so we don't have many. On our tour, he also took us to see the step where fourteen presidents have stood to make speeches.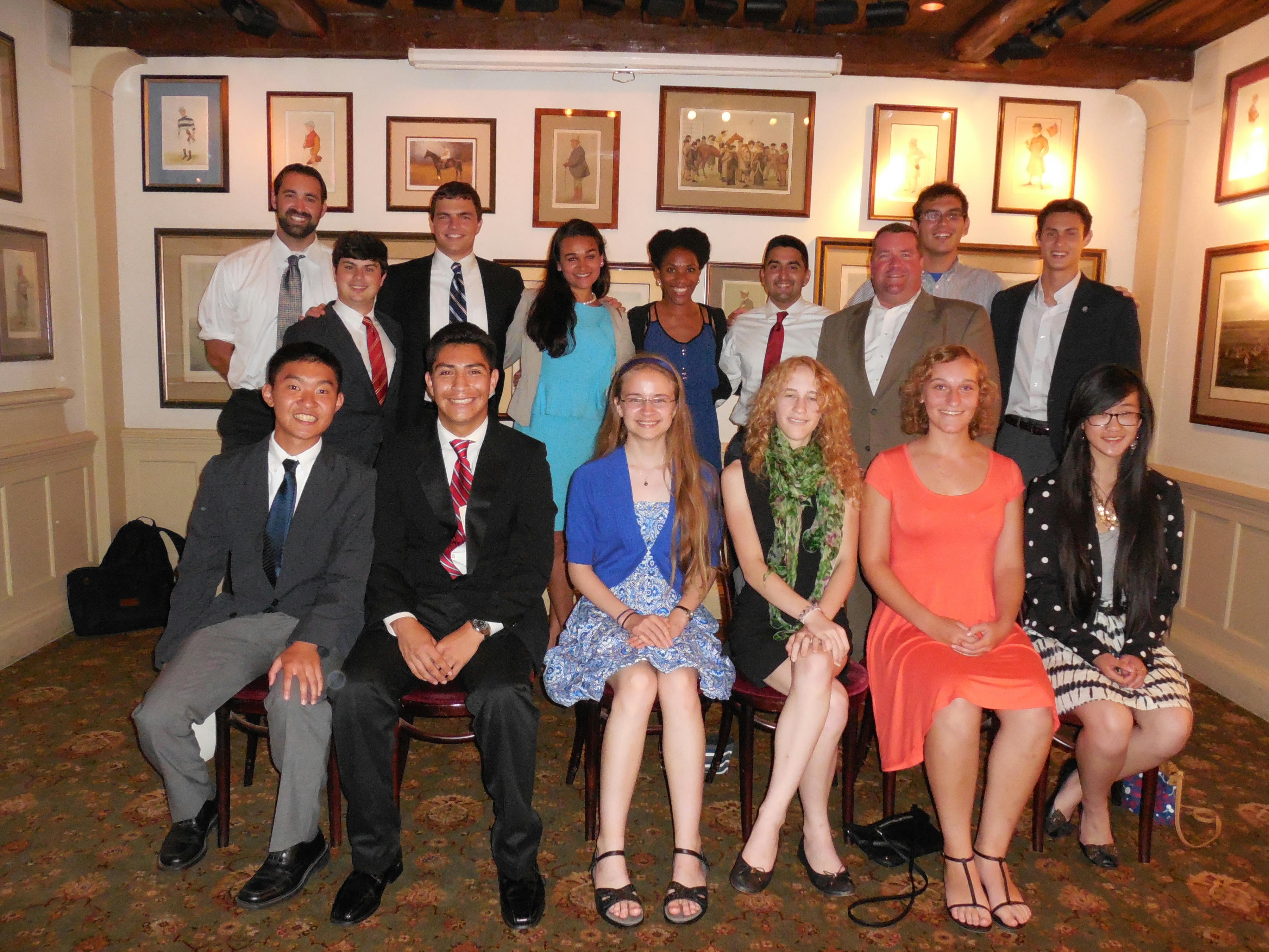 Group picture of the people at our dinner at 1789
After the tour of Georgetown, we came back to the hotel for a couple of hours before our dinner. We had dinner at 1789 with Georgetown alumni and students. I sat next to Warren, who is a rising senior and double-majoring in government and economy. He really likes Georgetown, and says that it was one of the best decisions of his life, because it has opened up so many opportunities for him. For example, last year he studied abroad in India, which he said was simply indescribably amazing. After hearing that I was in the Physics program, he told me that he had liked Physics a lot in high school, but wasn't passionate enough about it to major in it. He is also a hardcore soccer fan, and said he was disappointed that Mexico was disqualified yesterday and the United States today, because those were the two he was cheering for in the World Cup.