This morning we met in the lobby of the Holiday Inn at 7:30 with our bags, ready to check out. After checking out, we ate breakfast at Union Station and took the Amtrack train to Philadelphia, Pennsylvania. There, we decided to walk to our hotel instead of taking a taxi. Unfortunately, the wheel on my suitcase had broken completely, so I had to literally drag sixty pounds of luggage up a slope in hundred-degree weather for nearly twenty minutes. I had blisters on my hands by the time we got to the Sheraton and checked in. It was not fun.
Logan Hall, on the campus of the University of Pennsylvania
After a break where we relaxed in our rooms, we went to the UPenn tour. Unfortunately, they could not take us on a tour because of a heat advisory, so instead we stayed in an air-conditioned auditorium and listened to the informational part of the campus tour. We learned that the University of Pennsylvania is "the first university founded by Pennsylvania's first statesman in the first capital of the nation." An admissions officer, Alex, talked to us about the academic parts of a Penn student's life. We learned that Penn has a core of liberal arts, and that anything you major in will be interdisciplinary, incorporating classes from many subjects. Classes are discussion-based and collaborative, and emphasize practical applications of the theories you learn. Penn is also a unified campus, meaning that everything you need for academic reasons is on campus, and you never have to step off campus to get from place to place. Penn also has the most students study abroad of any Ivy League. She also said that Penn students are very involved in extracurriculars--there are more than 450 student-run clubs on campus.
Then, she went on to discuss applications to Penn. Penn is a "common app" school, meaning that the application is the same as many other schools and can be found online at the common app website. It is also an early decision school, which means that you can apply early, though if you're accepted it's a binding agreement. There is also an Ivy-wide policy of need-blind admissions and need-based aid only. Penn is one of only a few schools whose financial aid includes no student loans, meaning that many Penn students graduate without debt. There are six parts of the application (transcript, SAT scores, recommendations, extracurriculars, essays, and the interview) and she told us that although the transcript is the most important (though not by a lot) what they really want to see is that students are driven, passionate, and want to challenge themselves. She also revealed that Penn is a very selective university, admitting less than ten percent of applicants.
Benjamin Franklin, founder of the University of Pennsylvania
After the admissions officer spoke to us, we heard from a panel of four Penn students who told us a bit about student life. Claire is a sophomore, Angel is a sophomore who is majoring in bioengineering, Jordan is a senior who is majoring in architecture, and Bob is majoring in chemical and biomechanical engineering. They said that the dorm food, though not spectacular, has a balanced variety of options to accommodate all restrictions and allergens. They said that most students live on campus--90% of freshman, 70% of sophomores, 50% of juniors, 30% of seniors, and 60% overall. There are enough available options that there is a 99% guarantee of housing on campus if you want it, though your assigned dorm may not have been your first choice. They also told us that the average class size was around 25 students (though for some popular introductory courses it may be up 70), and it's really easy to contact your professor. They reiterated what the admissions officer said, that there are many extracurriculars and social life is a big part of Penn. One of their favorite things about Penn is that you can take classes at any undergrad school, no matter which one you're actually enrolled in.
Later, we had dinner at Butcher and Singer's with students and former students of UPenn. I sat next to Talon, who is a senior at UPenn and is majoring in psychology. He is from South Dakota, and one of the reasons Penn was his first choice of college was that he is a big hockey fan, and always liked the Philadelphia Flyers. Unfortunately, he had to leave early to finish an essay due that evening.
On my other side was Ken, who said that he didn't always want to go to college. Neither of his parents finished middle school, and he originally wanted to join the Marines after finishing high school. Then, the summer before he became a senior in high school, someone took him to visit Penn and he changed his mind. He majored in physics.
Alex, the same admissions officer who spoke during the Penn "tour," was also sitting at my table, though I didn't get to talk to her much because she was sitting farthest away. When Julia (Shebek) asked her what Penn students were like, she said that Penn was about initiative, breadth & depth, and passion for your subject.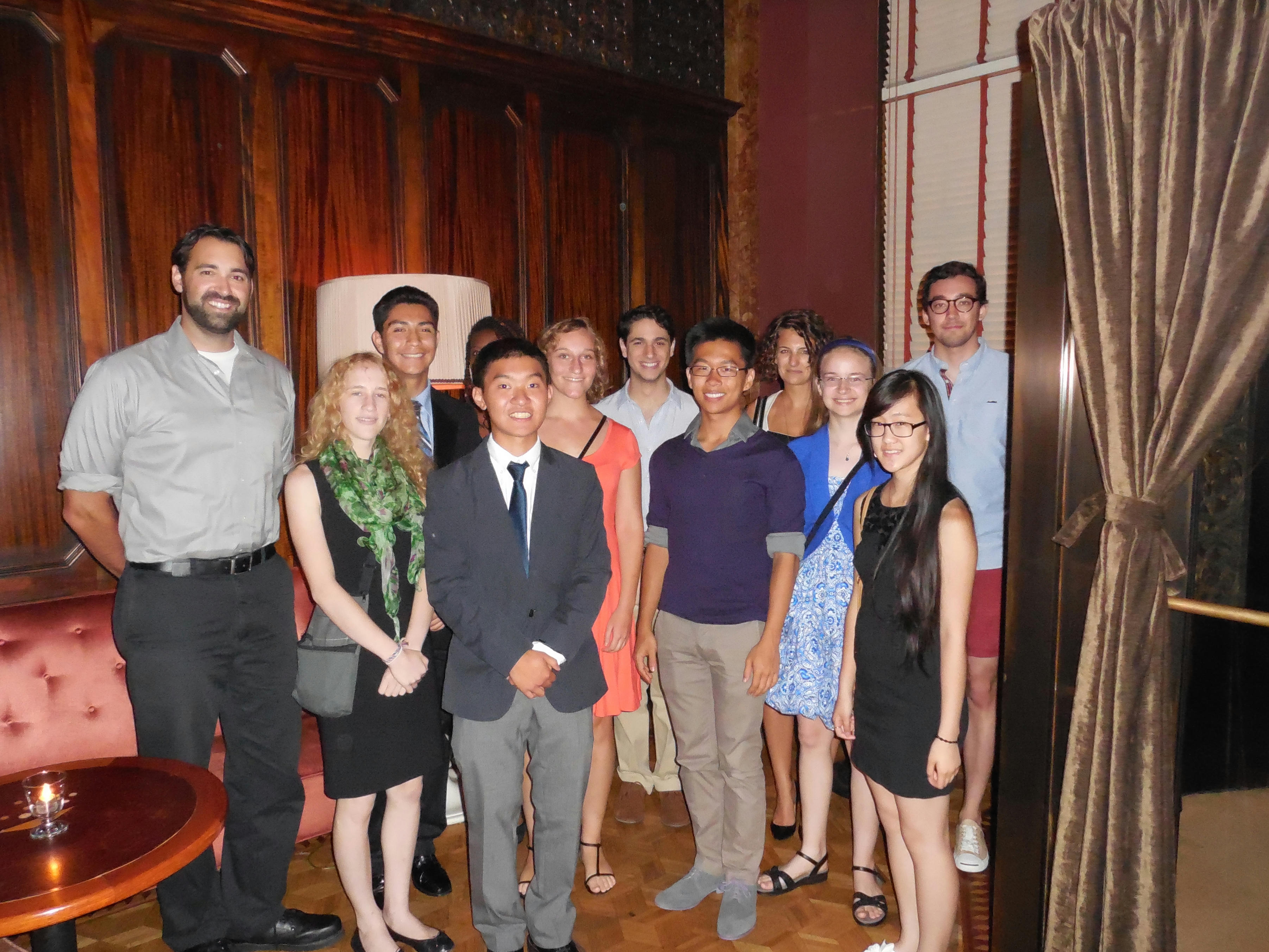 Penn cohort and Penn students/former students at Butcher and Singer's
After dinner was over we took a group photo and walked back outside to go back to our hotel--only to find ourselves in the middle of a thunder storm. Though it wasn't raining that hard, it was incredibly humid and still very warm, and there were huge bolts of lightning every few seconds. This was very different from the Bay Area, where it is always cold when it rains, it is almost never humid, and we are lucky to get a single thunderstorm over several years.